Desirable improvements in the Montreal area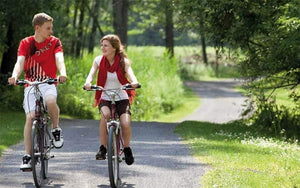 Boucherville Islands National Park
Photo: Montérégie Tourism

Bike paths, trails, parks... The Montreal area has a lot to offer active transportation enthusiasts. But some spans remain inaccessible in winter and some beautiful places too. Look at these shortcomings and improvements that could be made. 

If you're a cyclist, do you want to take advantage of the Boucherville Islands National Park this spring and get there by bike? Impossible, because it can only be accessed by car from Montreal and the South Shore. On the only bridge connecting this park to the mainland (the Hyppolyte Lafontaine bridge-tunnel), it is forbidden to cycle and walk there.

Fortunately, summer and early fall is easier because there are river shuttles that connect the park to Montreal, Longueuil and Boucherville. They are only in operation on the weekends from June 22 to October 14 and the cost is quite high, $8.50 round trip ($6.50 however from Boucherville and free for residents of this city). This is a sad example of a beautiful place, close to the city, but only accessible by car at all times. 

Bridges closed in the winter or poorly maintained
Other places in the region suffer from an accessibility problem. The Olivier-Charbonneau bridge on Highway 25 has a multifunctional path, very pleasant to use on foot or by bike. Unfortunately, this link between Montreal and Laval is closed in the winter from November 15 to April 15. On the website, it states that an early spring may allow for an earlier opening. But we often have a late winter without snow before mid-December and sometimes beyond. However, from November 15 to December 15, the bridge is inaccessible to active transport enthusiasts. 

The highway 25 bridge multifunctional path seems to serve as a winter snow dump. Photo: 
Stéphane
Gagné.
Barrier prohibiting access to pedestrians, cyclists and walkers during the winter on the Olivier-Charbonneau bridge. photo: Stéphane Gagné.
 
Another case is the Pie-IX bridge. It connects densely populated areas of Montreal and Laval, but its sidewalks are very poorly maintained in winter. "This winter, the borough of Montreal-North (responsible for its snow removal) snow plowed at the beginning of the season and afterward has remained snowed up most of the time and icy sometimes, says Patrick Bodnar, a bridge user. On the Montreal side, there are even trucks that sometimes roll on the sidewalk, which is dangerous for pedestrians and cyclists. The good news is that the 1966 bridge is being rebuilt and will have a multipurpose path on the east side. The bad news is that access to the bridge will be limited during the works.

On the south side of the island, the long-awaited Champlain Bridge will also have a beautiful multifunctional path on the east side, but will remain closed in the winter. 

This kind of situation can change if citizens put pressure on our decision-makers. The process can sometimes be long. Petitions and political representations are often necessary. But, with the need to fight against global warming and promote healthy lifestyles, active transportation enthusiasts have good arguments to put forward. 


---
---
Leave a comment
Comments will be approved before showing up.